Inside Out Character Cookie: Anger
by connie
June 21, 2015
---
This is the 5th of our Inside Out Character Cookie series.
If there's any emotion my father embodies, it is ANGER. For Father's Day, I'm dedicating this post to my father. Thanks, Dad, for everything!
I decided to make Anger's full body to show his working man clothes. This cookie is a bit more work, but you can use the stencil and only trace his head. For the stencil I made, comment below if you're interested in purchasing!
Start by making the shortbread cookie dough.
Allow the dough to chill in the refrigerator for at least 2 hours. Roll out the chilled dough to about ¼ inch thickness and trace the outline of the cookie stencil and cut the excess off.
Bake for 14-17 minutes at 325F. Allow cookies to cool completely.
While they're cooling, make the royal icing or use your favorite ready-made royal icing.
Quick tip on piping bags! I recommend professional pastry bags with piping tips, but with so many colors to pipe, you can quickly use up bags and tips. I've found that regular sandwich/snack bags work fine once you get used to it. Just snip the corner and start icing! :)
For the colors, you'll need 9:
bright yellow
orange
red
white
dark brown
pale pink
light gray
dark fuchsia
black
Additionally, for Anger's inner flame, you'll need Wilton's Red Sparkle Gel.
You'll also need Wilton's Candyball Eyes and black and brown food safe markers.
I color the eyeballs with black and brown food safe makers:
I recommend using AmeriColor gel for best color performance. I've tried some natural food coloring, but the image really suffers and it's also harder to get the icing consistency just right.
If taste and natural ingredients are more important to you, I've tried India Tree food coloring with some moderate success. The colors won't be quite right, but sometimes Red 40 just isn't cool.
Note on icing consistency: It's super important to achieve the correct consistency. You want to water down the icing such that it will become smooth within 10 seconds after slicing it with a butter knife. Be careful of how much water you use; it's a surprisingly narrow range. If it becomes too watered down, you can always add more undiluted royal icing.
Once the cookies are completely cool, you can start icing. Trace the stencil with food safe marker.
Ice the cooking in the following order. Check out our Anger cookie icing video!
1. Start by icing his tie with red icing.
2. Pipe a zig zig line with gray icing on top of the red icing while it's still wet.
3. Then, pipe a thin zig zig line with yellow icing on top of the gray icing. I also use the yellow icing to decorate the tie further.
4. Next, let's ice anger's collar with gray icing.
5. Ice anger's shoes with black icing.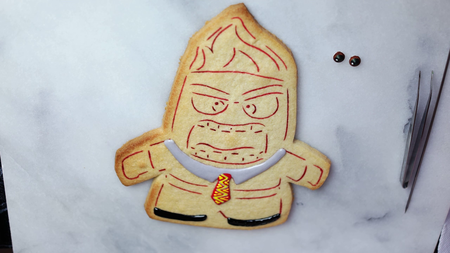 6. Ice the middle flame with orange icing.
7. Ice his belt with a dark brown icing.
8. Attach his candy eyeballs with a little white icing and then ice the whites of his eyes with white icing.
9. Ice his fists with red icing.
10. Using red sparkle gel for cakes and cookies. Ice his inner flame. I'm using Wilton's, which I bought at my local grocery store.
11. Finish the flames by icing the outer flame with yellow icing.
12. Dry 10 minutes.
13. Ice his eyebrows with red icing.
14. Ice every other tooth with white icing.
15. Finish icing his shirt with gray icing.
16. We'll decorate his pants with dark brown and dark fuschia icing. Pipe the two colors in alternating rows. Then using a toothpick, drag it perpendicularly across the rows to create his pant pattern.
17. Dry 10 minutes.
18. Fill his tongue with pink icing.
19. Fill his face with red icing.
20. Dry 10 minutes
21. Finish his teeth with white icing.
22. Dry 10 minutes
23. Finish his mouth with dark brown icing.
Allow the cookie to fully dry, at least 4 hours before eating. I like to allow it to dry overnight and serve it the next day.
I hope you enjoyed this post. Also, check out the video! Feel free to leave comments or questions below.
It's Tasty Time!